Lake Park Property Management Company For House Owners
ARE YOU MAKING THE MOST OUT OF YOUR INVESTMENT? ORDER A FREE RENTAL PROPERTY ASSESSMENT TODAY TO SEE HOW MUCH YOU SHOULD ACTUALLY BE MAKING.
Unparalleled Management Services For Rental Property At Unbeatable Price
Our Lake Park property management company offer unparalleled service at unbeatable prices to satisfy every owner's and investor's wildest dreams. From management services to rental services, we have an all-inclusive package to deliver next-level profits and peace of mind to our clients. Our team, along with our preferred contractors, provides you the best management solutions for the best price.
Our Property Managers To Help You In Lake Park, FL
FEATURES OF OUR PROPERTY MANAGEMENT SERVICES IN LAKE PARK
At Luxury Property Care, we use an online portal through AppFolio to manage your tenants and their concerns. Here, tenants can communicate with us directly when looking to report an issue, maintenance and other concerns. This allows us to respond and handle all concerns quickly and professionally. We then communicate all information to the client to approve their tenants' requests. All requests will have to be approved by you before we send our preferred contractors to provide solutions to your tenants.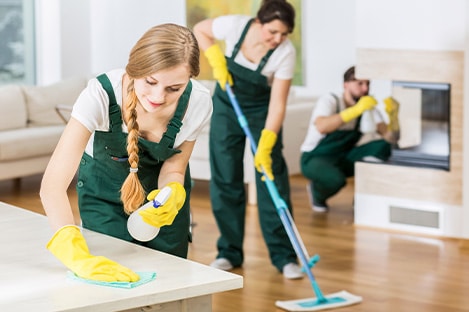 In the event of property issues, we are there to provide your tenant with immediate solutions. Tenants can get in touch through our emergency hotline or file a support ticket on AppFolio. Our numerous professional contractors offer cost-effective and reliable services for property maintenance and repairs. At Luxury Property Care, we handle all kinds of emergencies quickly and efficiently which will ultimately save money and time for our clients.
As a team full of experts in the real estate industry, we guarantee that your property is advertised effectively. We use multiple channels that potential tenants use when locating properties to rent including the top 100 real estate websites and the MLS. From social media to various marketing publications, your property will have the spotlight it deserves. We focus on advertising your property to attract the ideal tenants that will treat your property with respect.
Your property is your investment and preserving it is one of our important jobs. To provide you with the services of your choice, we get 3 quotes from our most reliable and cost-effective professional contractors. After your approval, we then supervise the job and make sure everything is in order. With over 15 years of working together, we ensure that you get quality work in the preservation of your luxury property.
Each property owner receives accurate financial reports of their accounting every month. Through our online portal, you will see every transaction that has occurred regarding your property. Your income and the corresponding expenses (e.g. tax, insurance, bill, and others) are also reflected here. Whatever clarifications you may need, our property managers are ready to offer a swift response, regardless of time and day.
Most of our tenants request to renew their contracts at the end of their lease term. This is good news to us and landlords since it means that the property will remain occupied for another year. When the time comes for tenants to renew their contracts, our property managers will handle everything. Since we conduct property valuations each year, the cost of the rent may be higher. This will be explained to the tenant and our team will handle all negotiations regarding the terms of the lease.
What Can You Expect From Our Real Estate Management Services?
Luxury Property Care Lake Park Management Services
CARE
Our prime value is care. We don't just take care of your property; we also care about helping you succeed in your investment goals. Our property managers create solutions that are tailored to your specific requirements and objectives. We measure our success through the success of your property.
COST-EFFECTIVE
Our team of professionals knows how to avoid potential problems that will lead you to lose money. We believe that swiftly handling tenant and property issues saves you valuable resources for all your property investments. In addition, we partner with top local vendors who can offer us the best prices for their property management services.
TRANSPARENCY
Our real estate management company uses various tools that offer transparency on how we are currently managing your property. From transactions to tenant communication, we strive to make you aware of how your property is doing. From accurate financial statements to real-time reports on repairs, you have 24/7 access to all information.
Wide Range Of Management Solutions For Your Real Estate Property
Successful property management in Lake Park involves a lot of different work and our team at Luxury Property Care excels in all of them. We have a wide range of services from management to rental and investment and brokerage. Whether it's bill payments, tenant eviction notices, or property repairs, we guarantee that we have it all. See our list of additional real estate management services below:
Property Staging and Renovation
Property Marketing and Advertising
Quality Renter Retention
Move Out and Eviction Management
Tenant Screening and Selection
Rent Collections
Financial Reporting
Online Management Portal
…and more!
To enjoy our unparalleled service at an unbeatable price at Lake Park, we offer free property assessments. Call us today at (561) 944-2992. 
Areas We Provide Management Services Around Lake Part, FL
At Luxury Property Care, our services span from the Jewel of the Palm Beaches to its surrounding areas. Below is the list of other locations that we operate in. If you're interested, contact us to learn more.
North Palm Beach
Riviera Beach
Century Village
Hobe Sound
Property Management Related FAQ
What is our Fees
Let's start with the bottom line – No income, no fees.
What does it mean in reality?
The fees we charge are performance-based and we collect our fees only when you start generating income.
Therefore:
Your property is vacant? No fees.
Searching for a tenant? No fees.
You found a tenant? That's right, no fees.
Your tenant signed? Still no fees.
You suffer from a non-paying tenant? Exactly, no fees until we replace him with a paying one.
Need to fix the property so it starts to produce income? Not only do we charge no fees, but we will also send you our loyal vendors to fix the problem for you.
Only when you start to receive any income and your property starts to produce, we will charge you a fee which ranges between 8% to 10% depending on your property/portfolio. Contact us to get a copy of our property management agreement for your review so you can check our terms and the services that are included.
What do our services include?
We provide a full package solution for your property which INCLUDES legal and tenant protection. Click on the
link
to see services that are included.
What type of Customers do you work with?
We manage all types of properties for a wide variety of individuals and companies. We work with local and absentee real estate investors who own Residential and multi-family buildings, as well as commercial properties. Our goal is to customize our services for our clients' needs so they can maximize their income and reduce their expenses. In most cases, we are able to produce our clients an average of 20% more income by managing their properties with us.
What is your typical process for working with a new customer?
First of all, each customer receives the utmost care possible. We meet our clients, understand their needs, and only after we have a full picture of their needs, we tailor the best suit for them. In case, they look for a property to invest in, we harness our experience and knowledge as investors ourselves to consider all factors, such as the market, the area, and the profit they can generate from the property. In case, they look for a management company, our team is composed of experienced property managers who go through every detail and match the exact needs of our clients with our full portfolio of services, from repairs, renovation, and maintenance up to tenant communication and management. We aim to generate profit, piece of mind, and tranquility for our clients and that's why we are always there for them, at any time.
What education and/or training do you have that relates to your work?
Our founders, Sivan Gerges and Liran Koren have an accumulative experience of more than 20 years in commercial property management and real estate investing, first as private investors and afterward for other people. Moreover, our team includes two property managers, Chen Kodish and Juliana Poyers, each with a decade of experience in property management and a legal team with extensive knowledge and experience in real-estate law, property law, deal closing, and corporate law.
How did you get started doing this type of work?
Both our founders, Sivan Gerges and Liran Koren built their own business with their two hands. Liran built his own business and earned more than $50M in a decade of real-estate investment before joining forces with Sivan, who decided to partner up with Liran after a decade of successful property management, first for herself and than for others. This combination enables us to supply top-notch property management and investment services.