Your home's siding serves a very important purpose, yet South Florida homeowners tend to forget about it. Since it contributes to your home's curb appeal and energy efficiency, it is critical to ensure that your siding is still in good condition. So, how can you determine if it's time to replace your property's siding?
In this article, we list some of the signs of outdated siding, and what you need to know when it comes to choosing the siding's material.
What is the purpose of siding?
Siding protects your home from the elements such as rain and snow. It acts as the "barrier" between your home and the outside world. In addition, it insulates your home so that you don't have to worry about wintry weather or scorching summers. Siding also enhances your investment home's curb appeal, consequently increasing its value.
How can you tell if your siding needs to be replaced?
Your siding will show signs that it needs a replacement. Be on the lookout for these indicators to know when it's time to install new siding on your South Florida property:
Your Energy Bills Have Gone Up
Are your energy bills significantly higher than they were before? Don't blame it on the rising cost of electricity. It's possible that your siding is responsible for the increase. At some point, your siding won't be able to insulate your home properly, causing your heater and air conditioner to work harder to heat or cool your home.
Your Siding Has Bubbles and Blisters
Another sign that your siding needs to be replaced is the appearance of bubbles and blisters on its surface. When this happens, water has gotten into the siding. This can be a huge issue as moisture can cause mold growth. Have your property management company conduct routine inspections. If possible, have a hurricane preparedness plan in place so you can spot issues before they can escalate.
Your Siding is Rotten, Cracked, or Warped
Closely inspect your siding to check for cracks. If there are any, you need to replace your siding ASAP — there's a good chance that the layer underneath will give way eventually. Poking the siding can let you know whether there's rot within the cracked portions of the cladding. Be on the lookout for holes, as this indicates that inspects such as termites and ants have burrowed into the wood.
Your Siding has Mold and Mildew
Beware of mold and mildew that appear on the seams of the siding. This indicates that moisture is trapped in the siding, or that water has seeped into the walls. Furthermore, don't forget to remove fungus from your siding at least once a year. Not all fungus is harmful, but to be sure, enlist the services of a professional to ensure that the siding is still sturdy.
Your Siding is Fading
Siding is supposed to be weatherproof, so when it starts to fade, this is a sign to upgrade your siding. Additionally, if you find yourself having to paint the siding more often, this could indicate that it's time to replace your siding. Siding should retain its color for around ten years, so if it starts to peel, that means your siding has reached its useful life.
 Want a way to save? Painting the siding can cost anywhere from $2,500 to $7,000. By hiring a property management company, you can take advantage of their list of vetted vendors that can provide these services at a reasonable price.
What type of siding should you use?
There are plenty of options when it comes to the materials you can use for your South Florida property's siding. Let's take a look at some of them:
Wood Siding
Wood siding is a popular choice among South Floridians. Not only is it attractive, but it is also available in a variety of finishes. For instance, the T1-11 plyboard has been treated to create various grooves that mirror the traditional board-and-batten pattern. The downside to wood is that it is prone to warping. Poor ventilation can also be a catalyst of various paint problems. If you want to install wood siding, be prepared to spend around $3 to $10 per square foot.
Aluminum and Steel Siding
Not only are steel and aluminum siding low-cost, but they are also low-maintenance. Best of all, metal siding can be fashioned to resemble the finish of wood-lap siding. From afar, it's difficult to tell the two apart. Some metal siding materials are also corrosion-resistant, which is why they're the best bet for areas that have heavy rain. However, it is worth mentioning that standard metal siding is prone to chalking. It would be better to buy slightly pricier metal siding, which can cost as much as $6 to $8 per square foot.
Vinyl Siding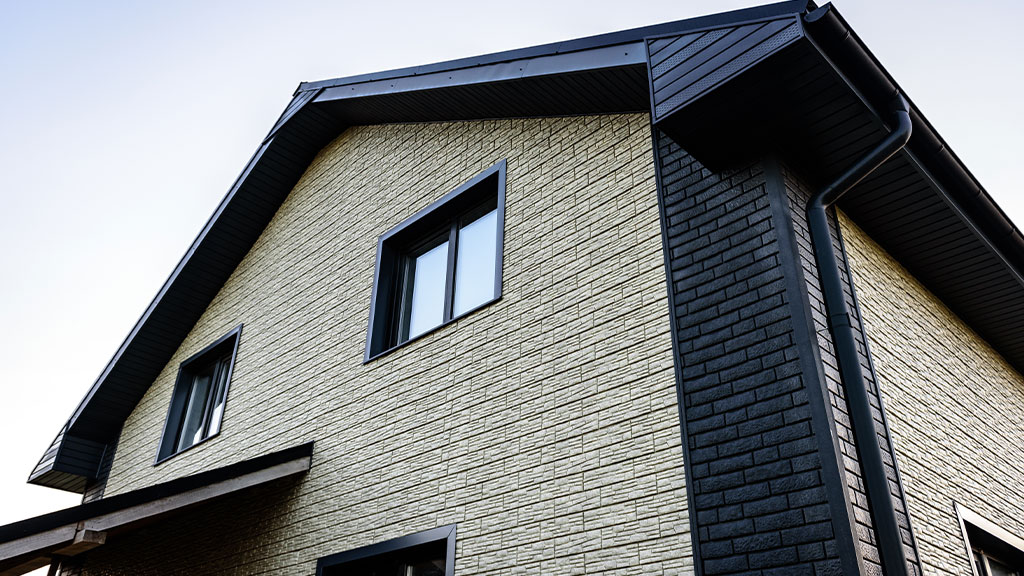 Vinyl siding is another low-cost alternative that comes with interlocking corners. To install vinyl siding, you'll have to use a zip tool. What's great about vinyl siding is that it comes in a range of colors and styles that allow you to design to your heart's desire. Unfortunately, while it is cheap, it doesn't do well in cold weather. The plus side is that vinyl siding is less expensive than metal, costing around $3 to $8 per square foot.
Fiber Cement Siding
Fiber cement is, by far, the best type of siding. Although it can be costly (around $10 per square foot), cement siding can last a long time. It is indistinguishable from wood siding and comes in panels, shingles, and so on. The best part of fiber cement is that it demands little to no maintenance, but you may have to repaint it at some point.
If you want to save yourself from costly repairs down the road, choose fiber cement. It is incredibly durable — you won't have to worry about rot — and it often comes with a warranty. A property management company can help you locate a supplier in your area.
Conclusion
Although your siding doesn't have to be replaced each year, you should still include it in your inspection. This is because the best way to protect your home is to ensure that its protective barrier is still intact. As your full-service property management company, Luxury Property Care can handle your home's maintenance needs so that you don't have to. Our team of property managers works only with well-known contractors in South Florida, providing your home with the care it deserves.
For more information, call (561) 944 – 2992 or complete our contact form.