Vacation Home Maintenance Service in Florida For Homeowners
Vacation Home Maintenance Services To Keep Your Property In Tip-Top Condition
Luxury Property Care's Vacation home maintenance services were designed for homeowners who primarily reside elsewhere. We will keep a close eye on your property while you are away, making sure that everything is in place and ready for your return.
Vacation Home Care in Florida: Your Trusted Property Maintenance Company
We understand that managing a vacation home from a distance can be difficult. It can be stressful to have to constantly worry about your property especially when you can't be there at a moment's notice. That is why we offer reliable vacation home property management services — we will be your eyes and ears, making sure that your property is protected for the times when you aren't there.
Our tailor-made vacation home services allow you to break free from your worries. We provide a broad range of property management services for your vacation property, such as hurricane preparation, holiday decorating, contractor waiting, and much more.
With years of varied experience under our belt, we have created a maintenance checklist. We can guarantee the highest quality of service to ensure that you will always come back to the second home of your dreams.
Our Home Services For Your Vacant Property In FL
#1 HOUSEKEEPING AND CLEANING SERVICE
Don't come home to a dusty and dirty home. Your vacation home should be a place of tranquility — not a place of disorder. As your dedicated property management company, we will ensure that your home is the epitome of perfection all year long. We will coordinate with professional cleaning and housekeeping services to make sure that the property looks, smells, and feels exactly the way you'd want it to be.
#2 THIRD-PARTY VENDOR MANAGEMENT
No one likes having strangers around their house. This is why our vacation home care company works only with vetted vendors, including handymen, contractors, electricians, plumbers, pool cleaners, landscapers, and more. We thoroughly evaluate all of the maintenance service providers that we hire to ensure the highest quality of work.
There's nothing worse than arriving at your vacation home in the middle of the night, only to find out that the heater is broken. To avoid these situations, our vacation home service team will regularly inspect your home to check amenities, fixtures, appliances, and more. Our job is to make sure that you experience the perfect getaway for the short time that you're at your vacation property.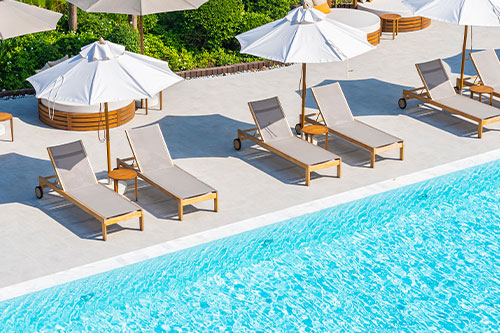 #4 VACATION HOME Watch Service
From minor upgrades to the most ambitious renovations, we will keep an eye on your property and look for anything to improve. When found, we will supervise home improvement projects from start to finish. Don't waste your precious time in your Florida vacation home by renovating, redecorating, and refurbishing all day long. Entrust the time-consuming task to us so that you can spend your time relaxing by the pool, going out for drinks, and so on. Our home watch service team will make sure that your vacation property looks exactly the way that you pictured it to be.
#5 Maintaining General Repairs
You worked hard to purchase your vacation home. It doesn't deserve to be unmaintained for most of the year. By hiring Luxury Property Care, you can avoid neglecting your vacation house for months on end. We will handle common repairs and upkeep for both interior and exterior spaces so that your property always looks neat and tidy. Through our bespoke management packages, we'll make sure that you always return to a vacation house that exudes luxury.
Don't let your car collect dust in the garage! If you have vehicles at your Florida vacation home, we'll make sure that they're in great condition for when you return. From starting up your vehicle now and then to taking your vehicle for its scheduled tune-up, our property managers will stay on top of your vehicle's maintenance needs. Whether you have a brand-new Mercedes-Benz or a classic Chevrolet, rest assured that our team knows how to properly operate most car models.
#7 VACATION HOME PREPARATION
Coming to your second home for the holidays? We'll make sure to welcome you with cheer by decking the home in the most festive decor. Staying over for the summer season? We'll get your surfboards ready so that you can hit the beach the moment you arrive. Whatever your plans are, all you need to do is let us know. We'll make the necessary arrangements to prepare your vacation home for your arrival. No matter how weird or wacky your requests may be, our team will strive to exceed your expectations — as we always do.
We watch over your property in order to preserve your valuable investment. This includes making sure that nothing goes wrong while you are away. Since empty homes are prone to all sorts of mischief, our property managers will conduct a walkthrough of the house to spot potential vulnerabilities such as faulty security alarms, unlocked windows, and more. We will then work with a home security company to see to it that the necessary safety measures are in place.
Our Property Managers To Maintain Your Second Home For Vacation
Experience Our Luxury Maintenance Services For Your Vacation House
The only care your vacation home deserves.
Luxury Property Care has served hundreds of property owners since it was first established nearly a decade ago. Our understanding of our clients' investment goals, as well as the unique needs of their properties, have allowed us to earn our reputation as one of Florida's top property management firms.
Attention to Detail
Our property managers take the time to familiarize themselves with our clients' preferences. Whether they want a glass of water when they arrive, or they want the home to smell like roses when they step inside, we'll make sure to keep these in mind, so that we can deliver exactly what they want.
Accountability
We don't point fingers. By entrusting the keys to your vacation home to us, we take full responsibility for whatever happens while it is under our care. Should anything untoward occur, our team will not hesitate to take accountability for our actions.
TRANSPARENCY
We know that it can feel uneasy to leave your home in someone else's hands. This is why we provide our clients with 24/7 access to the online owner portal where they can view important files, records, and other documents as needed.
Areas We Provide Our Services Around Florida
We provide vacation home maintenance services to an increasing number of satisfied homeowners throughout Florida. We currently cover nine counties including:
Leave your home in our hands. We'll take care of it as if it were our own.
Contact us today to get started.
Based on 170 reviews